Listers Irish Tour 1999 - March Gathering in Oxfordshire.
---
It was up early on Sunday 28th March to get to the Oxford services on the M40 for the pre-tour gathering of the Listers Irish Tour. It had been a very cold night and added to the fact that the clocks had gone forward getting the car out of the garage at 9:00am was a bit of a struggle for me coming from nearby so it must have been much worse for those coming from further afield.
The plan was to meet up at 10:30 at the Oxford services on the M40, then to go on a little play on the A and B roads nearby, followed by lunch at The Lord Nelson in Brightwell Baldwin.
Our journey to the services was uneventful with clear roads and bright spring sunshine through Wargrave, Henley, Nettlebed and Watlington. On getting to the services we nearly lost the exhaust on a speed bump, but arrived intact to find 5 Caterhams already parked in a line. Over the next 30 minutes 8 other sevens arrived including Dave Andrew's Robin Hood and a very loud V8 Westie.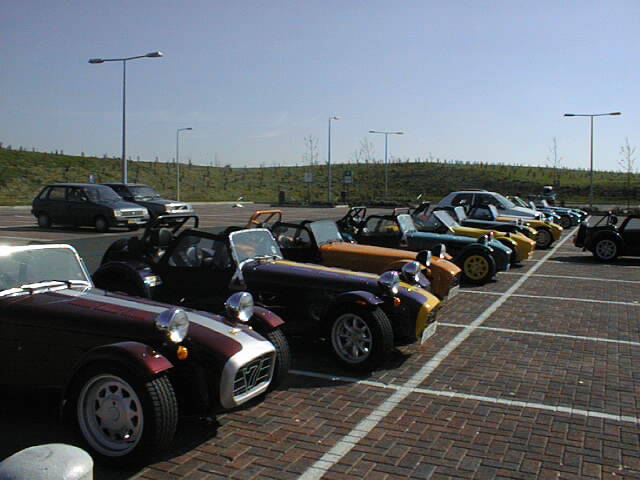 Click here for more pictures...
After introductions, the usual chat about all things seven related and a cup of tea we headed out onto the roads (via a roundtrip of the lorry parking bay due to a misunderstanding with the navigator :-) ). We all managed to stay together on the sometimes clear roads, despite some attempts to run over the already dead road-kill (pheasant). 30 minutes of driving later we all pulled up into the Lord Nelson (click here for map 251K)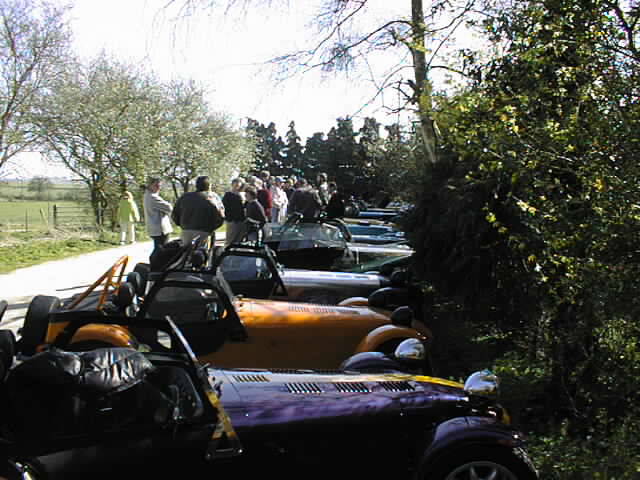 Click here for more pictures...
Having arrived we then had an excellent lunch, and Johnty handed out 1000 brochures for the impending tour (thanks Johnty) and again the chat was about all things seven :-) After lunch evrybody slowly departed for home (via the petrol station, hope you all made it back). Thanks all for turning up and making it a very memorable day out.
---
This page was last updated on 28th March 1999. Want to get in touch with us then click here.

28026 hits since May 11, 2003